Pre-Ride Safety Inspection Checklist
The T-CLOCK inspection checklist was devised by the Motorcycle Safety Foundation for inspecting your motorcycle to make sure there aren't any equipment or mechanical hazards. T-CLOCK stands for

T

ires & Wheels,

C

ontrols,

L

ights & Electronics,

O

ils & Fluids,

C

hassis and

K

ickstand.
Budget adequate time to perform this inspection BEFORE you start riding. Conduct routine maintenance by a certified technician on a regular interval.
TIRES & WHEELS
Before hitting the road on your bike, be sure to check that your tire pressure is within safe parameters along with the condition of your tire's tread. You should also look for unusual holes, cuts, or punctures from sharp, foreign objects.
Inspect your wheels to see if your spokes are firm and intact, your rims are in proper position, the condition of the bearing seals are okay, and the ability for the wheel to spin freely.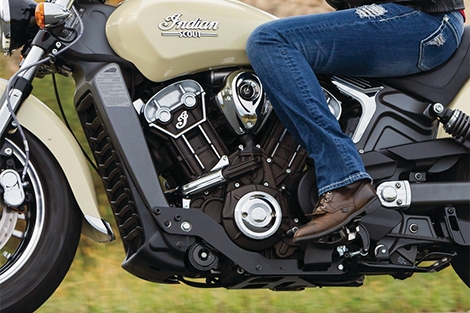 CONTROLS
Inspect your levers regarding the condition of your pivot bolt, if pivots are properly lubricated, and whether the action and position are correct. Check cables to determine that their ends and shafts are properly lubricated, signs of fraying, and no kinks or binding when turning your handlebars. Inspect your bike's hoses for any leaks and damage and make sure they connect to the proper terminals. Last but not least, check your throttle to ensure that it isn't too loose and that it freely snaps closed when released.
LIGHTS & ELECTRICAL
Check to see if your brake and taillights are functioning properly. Switch on your headlights to see if they are angled correctly and their brightness level to determine whether they need replacement. Inspect your battery for adequate charge and to ensure that it and the post connections are secured tightly. Check for any loose, frayed, pinched or corroded electrical wiring from the battery.
OILS & FLUIDS
Check fluid levels for your fuel, oil, brakes, transmission, coolant, and final drive. Make sure there aren't any fluid or oil leaks. Furthermore, you should inspect the color of your fluids to make sure there isn't any grime, carbonation, or contaminants that could interfere with the safe operation of your bike's essential systems.
CHASSIS
Inspect your bike's chassis for signs of wear and tear – and possibly cracks in your chassis – such as peeling or lifting in the paint along with damaged, loose, or missing fasteners, clips, and pins. You should also check your bike's chain or belt for proper tension and lubrication. Examine your bike's suspension system for smooth motion and proper adjustment.
You should also check the bearings for your bike's steering head and swingarm: While the front wheel is off the floor, pull and push the lower fork legs to see if they are loose. Do the same thing for the rear wheel while it is off the ground.
KICKSTAND
Inspect your motorcycle's kickstand to see if it retracts properly. Examine it for warping or other damage. If your side-stand or center-stand is loose when retracted, check the cut-out switch and springs for damage or wear.
Orange County IMRG
13031 Goldenwest St
Westminster, CA 92683